The Sapo Challenge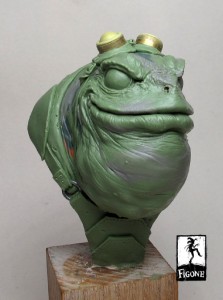 Introducing The Sapo Challenge, featuring the latest bust sculpted by Allan Carrasco for Figone Miniatures.
No sooner had we revealed the WIP pictures of this figure than some painters were already remarking on the creative potential of this bust which just cries out to be painted.
The range of possibilities offered by this magnificent piece should allow us to build an impressive gallery of painted examples and compare the styles and creativity of those turning their brush to the model. We therefore decided to organise a little challenge!
Rules:
Each participant should send one or two pictured of their painted miniature before midnight CET, 31 marsh 2014 to jbonamant@yahoo.fr
Each picture will be displayed in the Figone Facebook gallery and the website.
Conversions are encouraged so don't be shy
The entrants will be judged by Allan Carrasco himself
So what's in it for you? Well…how about Allan's next miniature for Figone; that's to say the rather large miniature ROCCO (you already seen on it on Indiegogo) for the winner? A number of other prizes will also be awarded depending on the number of participants.
So what are you waiting for?
Adrien Neumayer

Antonin Delanoe
Bruce "Leganes"
Evelyne Henninot
Jean-Paul Dana
JF Hardy
John Keys
Mario B Delgado
Mart Slusarska
Matteo Fago Golfarelli
Mike "Shades" Schaefer
Mirko
Olivier "Lilliputien" Herblet
Olivier Raoul
Oyvind Willumsen Hauga
Terry "Phatkid1966″ Cowell
Thomaswasch
Torlarp "Thor" Intararangson
Jérémie Bonamant Teboul & Allan Carrasco
Copyright © 2013-2020 Figone